PureStiller HC/L [SHJK36L(HC)TB]
Large stainless pot type. The capacity of the distillation pot is approximately 36 liter. The volume of herb for the pot is approximately 5,000 g. Suitable for producing a lot of oil water.
The thin cooler increases cooling efficiency. By using the stand attached to the apparatus, the cooler is positioned below the distillation pot, resulting in less contraflow to the pot.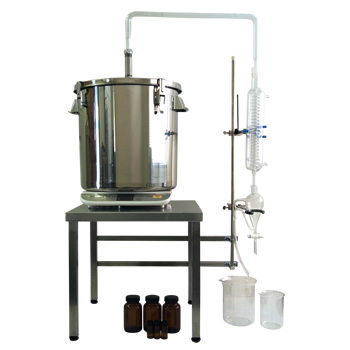 As the cooler and the stand are connected and fixed, the tumbling and breakage by touching is prevented. The oil separator attached to the apparatus saves the trouble of separating liquid, making herbal distillation easily and more efficiently.
Tap water is needed for cooling. When there is no water supply near the apparatus, we recommend to use our "Simple water circulation device" sold separately. It can also save water. See the page "Simple water circulation device".
As the IH heater attached to the apparatus can heat at a stable temperature, thermal management is also very easy.
Base price (Postage excluded)

¥165,000[JPY]
Contents of PureStiller HC/L [SHJK36L(HC)TB]
Distiller × 1, IH Heater × 1, Oil vial (100ml) × 3, Herbal water vial (200ml) × 3, Stainless base × 1, Manual for Assembling and Usage × 1
| | |
| --- | --- |
| Model | PureStiller HC/L SHJK36L(HC)TB |
| Capacity of distillation pot | Approx. 36 liter |
| Volume of herb | Approx.5000g |
| Oil | Approx. 20~60ml |
| Herbal water | 1300ml~2000ml [*1] |
| Heat source | IH Heater(attached) |
| Weight | Approx. 15kg |
| Size(W×D×H) | 600×430×1130 mm |
Measurement conditions Room temperature: approx. 25℃ / Extraction time: 1 hour after boiling
The extracted volume of oil and herbal water depends on the kind and condition (fresh or dry) of herb, and the distillation conditions.
[*1] The concentration is approximately 3 times. It depends on the volume of herb.
The electric stove attached to this apparatus is operated with 100V (the standard voltage in Japan). When it is operated with other than 100V, there can be a failure of the apparatus or a risk of fire. Please be sure to use a transformer and/or a plug adapter appropriate for the country where it is used.
Photo Gallery