We will offer the most suitable distiller according to your materials and purposes.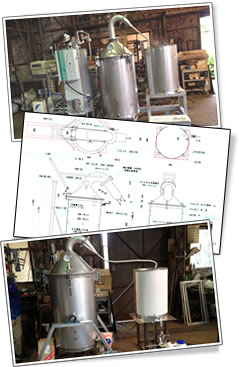 Making excellent products by distillation depends on the distiller as well as the material itself, because the shape of the distiller, its heating method/time, and its cooling method/time decide the quality of the products and the extraction efficiency. So, some ready-made distillers might have disappointed you. We consider the condition and volume of your material, discuss various points with you such as the structure of the connecting pipe and the cooling part, the heating method, and other factors which influence on distillation, then offer the most suitable distillers for you.
Especially for a large-scaled distiller, the installation site and the easiness to take in and out the material are also important, because they influence greatly on work efficiency as well as the quality of the distilled extract.
We will respond to your various requests from mass-extraction in a factory to a beautiful glass distiller which can also be used for demonstration in herb gardens and farms. Please feel free to contact us.
Manufacturing Flowchart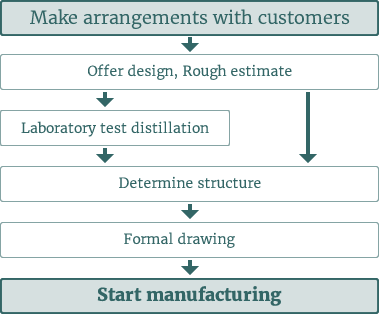 As to a distiller with more than 50 liter pot, we will manufacture as a custom-made distiller for business use. After receiving your requests and making arrangements with you about the details, we will make a drawing and provide an official quotation. In some cases, we will make a reduced-size prototype and examine the distillation quality before manufacturing a full scale distiller.
Examples of custom-made products
We will introduce our "PureStiller Pro", herbal distillers for business use, and examples of custom-made distillers.