Manufacturing Flowchart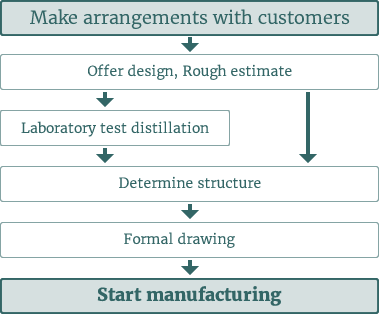 As to a distiller with more than 50 liter pot, we will manufacture as a custom-made distiller for business use. After receiving your requests and making arrangements with you about the details, we will make a drawing and provide an official quotation. In some cases, we will make a reduced-size prototype and examine the distillation quality before manufacturing a full scale distiller.
Check List
Please use the following checklist when ordering a custom-made distiller.
| | |
| --- | --- |
| Heating method | Boiler, direct heat, electric stove, etc. |
| Structure of Connecting pipe | Diameter, length, height, inclination, etc. |
| Structure of Cooler | Shell type, Cooling pool type, etc. |
| Material (Conditions of herb) | Pasty (viscous), powdery, size of leaves, density, etc. Volume of material |
| Distillation type | Direct steam distillation, indirect steam distillation, steam distillation, hydro distillation |
| Important points | Quality of oil or water, distillation efficiency (time, yield, etc.). |
| Installation site and equipment | Anchor bolt, chain block, etc. |
| Cost | Combination of our existing products is available, according to your budget. |
Please don't hesitate to ask us about other conditions and requests.
Combination of our existing products will make the cost lower.
Like our PureStiller HC/S,M,L, combining a stainless pot (our existing products include 50 liter ~ 100 liter pot) with a glass cooler can greatly make the cost lower. As to heat source, however, we don't provide IH heaters for such big pots. Therefore direct heat with propane or electric stove will be needed.
Please contact us if you'd like further information.